Genesis 1:29-30
(NRSV)
29 God said, "See, I have given you every plant yielding seed that is upon the face of all the earth, and every tree with seed in its fruit; you shall have them for food.
Greetings in the name of our Lord and Saviour, Jesus Christ!
I I want to thank you for visiting our website where we hope to keep you up to date on what is going on with all things related to the church, as we deal with the effects of the COVID-19 virus.
Although the church building is closed to activities in the midst of the crisis, we want you to know pastoral care is still available if needed. Please contact the church office at 519-364-2240.
Please refrain from entering the building. However, you will be able to and contact the office at stmatthews@wightman.ca if you are in need of assistance.
Church services have been recorded for you and will be posted on the worship page of our site and on other platforms such as Wightman and Eastlink television and on our Facebook page.
We encourage you to continue to support our ministry in whatever ways you can, whether through offering
envelopes dropped off in our mailbox beside the office entrance of the Church, by mail, or by clicking on the Donate Now button located on the 'How to donate' page of this site.
As Christians, we are implored by our Saviour to not be afraid and to trust in the love he has for us and for the world. So, I come to you not afraid, and separated from you only by distance as the Spirit of God draws us together wherever we may be today and always.
Blessings to you and I hope you find some comfort and joy in the knowledge that you are not alone. Your family at St. Matthew's loves you and wants you to stay well.
Pastor John Polačok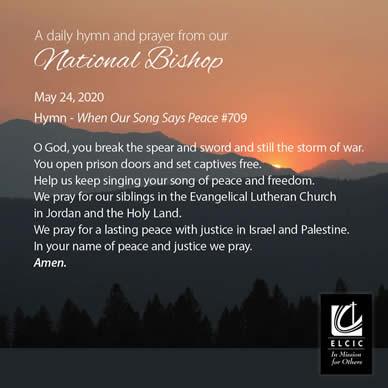 Important Messages from Pastor
Don't forget to see our devotions page, and follow our daily devotions with Pastor John.
Good Evening and Happy Monday!
This Sunday (May 31st) will be an incredibly special service for us at St. Matthew's, and we hope it will be for you at home as well. We have been observing a communion fast as part of the pandemic protocols put in place by the Province and by our Church body, the Evangelical Lutheran Church in Canada. On Sunday, however, on the Festival Day of Pentecost, we are lifting the fast here at St. Matthew's with a Spiritual (or some might call it Virtual) communion service. Sunday's service will be a communion liturgy, from Setting Four in our Evangelical Lutheran Worship Books. When it comes time to celebrate communion, I will do so with those present who are assisting me with the service. I promise you we will take all necessary precautions to ensure everyone's safety when the bread and wine/grape juice are distributed.
I invite you to commune with us at home while you are watching on television or online. To prepare for communion, I suggest that you use a special tablecloth, or piece of linen, and drape it over the table nearest to where you are watching. Prepare your table by first lighting a candle, and then uncovering the bread you are going to use for the sacrament. Use a plate that has special significance to you. Then, uncover the wine or juice you will be using which has been poured into a special glass. At the bottom of this e-mail, you will find a recipe for the bread we will be using that day, so that if you choose, you can make your own loaf. If you are not a baker, that is fine; please use a nice bread you enjoy. When the bread and the wine are distributed during our service on Sunday (the 31st), you will eat and drink with us at my direction. You will be communing with the help and power of the Holy Spirit, not only with the members of St. Matthew's, but all those who are watching the service throughout Grey and Bruce Counties, and beyond.
If you choose to participate in this week's communion, we would appreciate your feedback! When your communion service is completed, we ask that you complete this short survey and e-mail it back to the church at stmatthews@wightman.ca. We will use your feedback to make decisions on future services. The sooner you can complete it and send it back, the better!
SURVEY: YES! I/We participated in the Spiritual/Virtual Communion Service
* How do you feel the church prepared you for this service?
* How do you feel the service was executed?
* How likely are you to participate in communion at home again?
I prefer (choose one): Service of the Word (or) Communion at Home
Your Comments and Concerns are Greatly Appreciated! Please Share Here:
Communion Bread Recipe
Makes 2 small loaves. You will have plenty of bread so you may choose to freeze what you have leftover so you can use for subsequent services.
1/2 cup hot water (hot water is necessary to dissolve the honey)
1 tsp olive oil
1 tsp honey
1 tsp molasses
3/4 tsp salt
2 cups whole wheat or all purpose flour
Preheat oven to 400F.
Combine hot water, oil, honey, molasses, and salt in a large bowl.
Add flour slowly, just until dough cleans the sides of the bowl (the amount of flour required to reach this step may vary).
Knead dough by hand or with a dough hook for 5-7 minutes. Dough will be quite dense, but should be smooth and pliable, not dry.
If dough is sticky, add flour 1/8 cup at a time until manageable. If dough is dry or crumbly, add water 1 tsp at a time and continue to knead until smooth, without any dry flour visible. It is especially important to correct for dry dough in Communion bread because dry bread does not tear well and can create stray crumbs at the distribution.
Divide the dough into 2 equal balls.
Pat each ball into a circle ⅛ to ¼ inch thick, or use a rolling pin. Thinner loaves are much easier to break at Communion!
Use a sharp knife to score a cross in the center of each loaf.
Bake loaves on ungreased cookie sheets (I line mine with parchment) on center rack of oven for 10-12 minutes. Sometimes thinner loaves puff in the middle when they bake; this is fine, they will flatten again as they cool.
Enjoy!